Chamber Publications
Sumter is one of a kind and offers unique experiences for both visitors and Chamber members. That's why we are passionate about doing whatever we can to build the community through award-winning publications that include community guides, business directories, and newsletters.
Advertising in these Chamber Publications is an easy way to get your name known in the Sumter business community. From e-newsletters, to printed magazines, to social media, The Chamber offers members a variety of ways to communicate with current and potential customers in the Sumter area.
Business After Hours
Regarded as one of Sumter's best networking opportunity, these evening events offer guests the chance
to meet other business professionals in a relaxed, social setting with food and drink.
Ribbon Cuttings
Let The Chamber assist you in hosting your ribbon cutting, grand opening, or groundbreaking. Ribbon cuttings are not just for new members! Existing members are eligible as well when celebrating a remodel, change in location, or new product line.
Event Sponsorship
In short, sponsorships are a form of marketing that should be strategically used to reach your target customers. Instead of having you research events in the area to see what best fits your business, the Chamber does all the work for you. Throughout the year we host several events with sponsorships opportunities that help your business increase its credibility, improve its public image, and build prestige.
Sponsoring Chamber events is a great way to showcase your business while supporting our great events. Sponsorship opportunities are available at a variety of levels and for a wide range of events.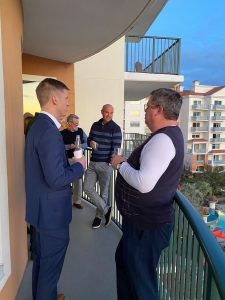 Chamber Retreat
Held at the beginning of January, the annual Chamber Retreat is attended by over 200 local business leaders, community members, and elected officials. Sponsors receive exposure at the event as well as discounts on attendance.